I love Thanksgiving. I love food, so obviously, I love Thanksgiving. I also love having a kitchen full of family, laughter echoing in the halls, football on repeat, and kids sneaking little sweet treats when no one's looking. For the past few years I've hosted this wonderful holiday but I am always looking for ways to take a little off my plate. I am sharing this Thaksgiving I hosted a few years back with hopes to inpire you on how to create a simple Thanksgiving dinner.
How to pull off a simple Thanksgiving dinner
Below you will find my whole setup from last year including our easy (and inexpensive) table set up and my awesome menu.
If you are looking to do something that seems extravagant, but totally simple, this is the menu for you. 
I'm not much of a decorator so this set up was all about simplicity. I clipped the rosemary from my garden and used a bit of bakers twine.
The name tags are from
HERE
(they are free) and the beautiful writing is from the ever so talented
BB Designs
. She is my sister-in-law so I always seem to put her to work when she comes over for family events.
The bunting above is so incredibly easy it should be a joke.
1. Printed out the letters (from link above) on card stock
2. Cut them in a bunting shape
3. Use mini clothespin to hold them to a burlap ribbon.
4. DONE! Perfect for the "craft-challenged" like myself.
My centerpiece started with a simple antique box. I filled it with some greenery which actually was part of my Christmas decor and added the mini pumpkins. A really beautiful centerpiece for a simple Thaksgiving dinner.
This was the first year that the kids were old enough to actually sit at a kids table and I was probably more excited than them! I have seen this on Pinterest and wanted to try. Plus clean up was pretty easy which is always a win in my book. I just used craft paper that I bought in the Target dollar section. I taped it to the table and my sister-in-law drew placemats for the kids.
Be sure to tape it down really well. You don't want that rambunctious toddler ripping it up mid-meal. This is going to make for an extra simple Thanksgiving dinner when you can throw the messy paper away at the end of the night.
The best way to get ready for a day of eating is to start eating early! These appetizers are sure to make a statement. If you are asked to bring something to your get together try these dishes. They are a crowd-pleaser.
Want your kids to eat vegetables??
Make them in the shape of a turkey!
Lu thought it was the funniest thing.
You can find the recipes for the other two appetizers here:
Want to have the juiciest turkey ever? 
Follow my instructions and you won't be disappointed. I've tried several versions and this by far was the juiciest.
INGREDIENTS
12-14 lb. whole turkey, (totally thawed)
6-7 fresh sage leaves, chopped
5-6 fresh thyme stems
2-3 springs of rosemary
2-3 springs of oregano
1½ cups of mayonnaise
1-2 tablespoons coarse salt
1-2 tablespoons pepper
3 stalks celery, rough chopped
1 large onion, rough chopped
½ cup (1 stick) butter, salted(adjusts all seasonings & mayonnaise as needed for size of bird)
INSTRUCTIONS
Preheat oven to 450-degrees F and lay the turkey in a roasting pan.
Remove leaves from herbs stems. Add sage, thyme, rosemary, and oregano to mayonnaise; combine well. Rub the mixture all over outside and interior of bird.
Add salt and pepper, the celery, and onion, inside and out, and tuck the butter in the cavity.
Roast turkey in 450-degrees F oven for 30 minutes. Then turn the oven down to 350-degrees F, and insert the meat thermometer into the thickest part of the thigh, being careful not to touch bone. Continue roasting, uncovered, until internal thermometer reaches 165-degrees F. Cover legs with foil partway through roasting if desired. Depending on size of turkey, total cook time will be around 1½-2 hours.
Once the thermometer reaches 165-degrees F in the thigh, check the internal temperature of the thickest part of the breast to make sure it reads at least 165-degrees F as well.
Remove from oven. Cover loosely with foil and let rest for at least 20-30 minutes (depending on size) before carving.
Remember to reserve turkey drippings and juices for gravy.
A lot of work but so proud of that beautiful bird!
Ok so here is a big piece of advice when it comes to turkey, bigger isn't always better. This is what we had leftover. Even when we gave our family leftovers we had more turkey than we knew what to do with. A bigger turkey is more work and more money and after two days of leftovers, you won't want to see any turkey for a long, long time. Trust me, I know from experience.
Now I was in charge of the cooking and my man was in charge of the drinks. Equally important in my opinion. This was the yummiest drink he has made to date. Oh goodness, my pregnant self so wishes I could have one of these right now.
PEAR GIN FIZZ
Gin
Fresh Pear JuiceChampagneSimple SyrupMint Leaves
Sorry, my husband is such the master mixologist that he doesn't measure so just use the gin/champagne/pear juice ratio to your taste. He muddled the Mint and Syrup and added it to the other ingredients.
It's perfection. Not too sweet and amazingly festive.
So here was my all-time favorite menu ever made.
Not only for Thanksgiving but any meal.
I am going to warn you, it looks like a lot of work but this is a simple Thanksgiving dinner. Every course complimented the others and it was a really nice change. As the menu states, we did have the typical dinner as well but the first 3 courses were an indulgence for my self proclaimed "foodie" palette.
I've divided the recipes into separate posts not to make this post incredibly long so please follow the links for the recipes.
Autumn Squash Soup (coming soon)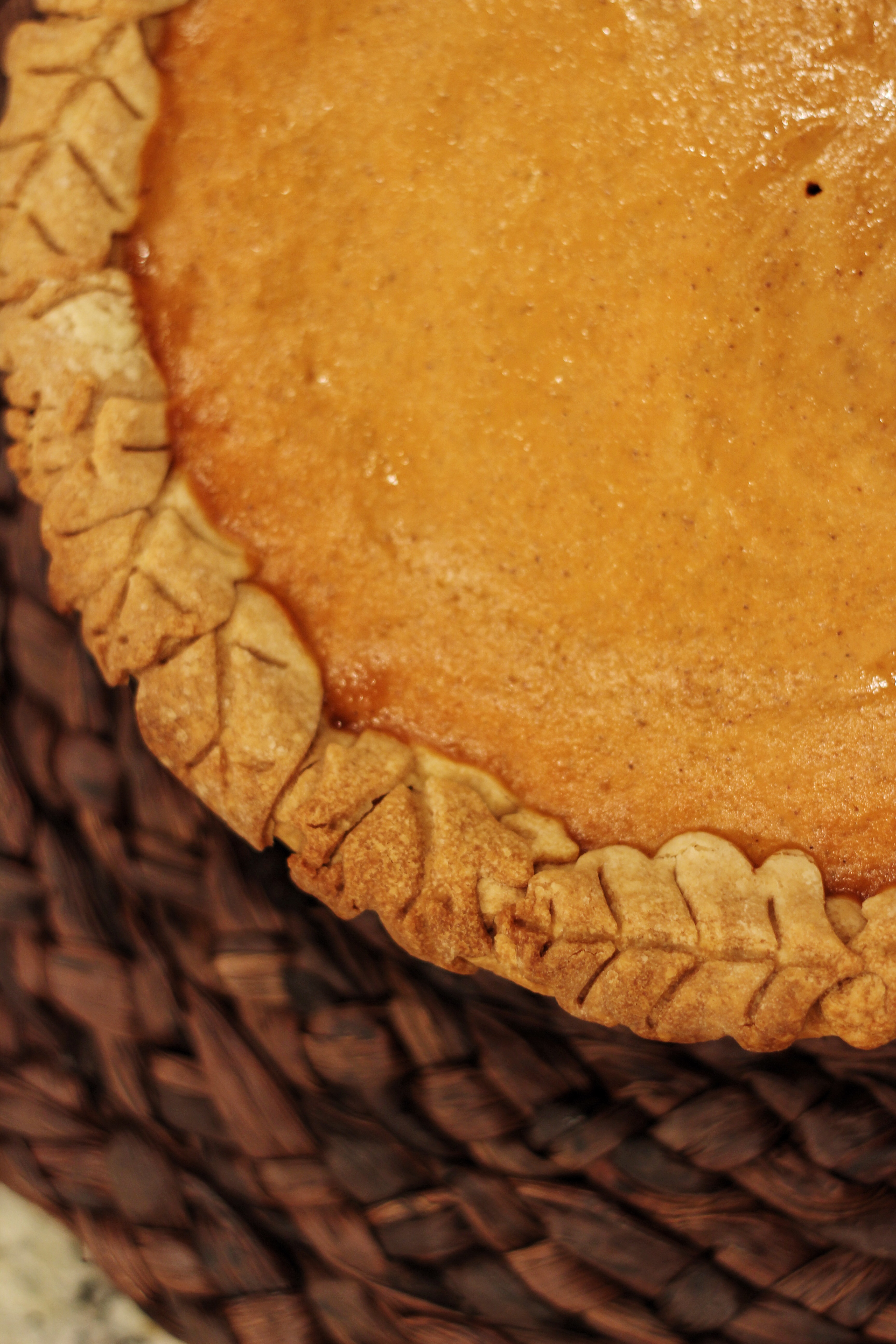 Now let's talk dessert.
Oh, how I love dessert and I LOVE pumpkin pie.
I love making it almost as much as I love eating it. How cute are these pie cutters from Williams Sonoma?! They add a little something extra.
The apple tart was a nice compliment to our very rich dinner as it wasn't too overwhelmingly sweet. It was so beautiful I didn't want to cut it
Last but not least I gave my guests a little something to take home. In our case, everyone stayed the night so we devoured them on the couch when the kids went to bed. Inside these adorable boxes, I added pumpkin truffles. Super easy to make.
Find the recipe here:
A parting gift is the perfect little touch to make this memory a lasting one. When your guests leave with their leftovers in hand they will also have a little sweet treat to remember you by. They will want to keep coming back year after year.
I am so thankful for all of you, I wish I could give each and every one of you this truffle box! 
I hope this inspires you to host your own simple Thanksgiving dinner. We sure did have fun and I hope you do too!